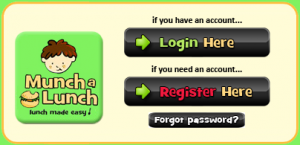 YORKSON CREEK PAC IS EXCITED TO ANNOUNCE THAT WE USE MUNCHALUNCH! 
Munchalunch is an online lunch ordering system!
How to Register:
1.  Go to www.munchalunch.com/schools/yorksoncreek
Click "Register Here" and the system will guide you through.
After adding your children, click the green "Order Lunch" button to order.
Next time, just click "Login Here" to access your account and place an order!
If you are returning user, just click "LOGIN" HERE.
What's NEW?
Each lunch date is opened for ALL grades!  Yes, G6, G7 and G8 altogether!
Lunch Schedule: (all grades on the same day). 
YORKSON CREEK MIDDLE SCHOOL
LUNCH PROGRAM
Hello Parents! Our online lunch ordering system is now open through MunchaLunch.com.
2018/ 2019 Schedule (lunch day: Wednesday)
November 7 Sushico Order Deadline: Oct. 24
November 23 Krispy Kreme Treat Order Deadline: Nov. 9
December 12 Subway and Menchies Order Deadline: Nov. 28
January 16 Taco Del Mar Order Deadline: Jan. 2
February 6 Panago Order Deadline: Jan. 23
February 14 Purdy's Chocolate Treat Order Deadline: Jan. 31
March 13 Cobs and Menchies Order Deadline: Feb. 27
April 10 Triple O's Order Deadline: Mar 27
May 8 Panago and Krispy Kreme Order Deadline: April 24
June 5 Subway Order Deadline: May 22
SPECIAL NOTES before ordering:
● The system works best using a computer/laptop , some drop down menus may not all work if
using a cell phone. If your browser is giving trouble try updating to the most recent release.
● Any unpaid orders will be automatically cancelled so please be sure to make payment as soon as
you have placed your order. The prices include processing fees which YCMSPAC must pay for on
each transaction. So if you are planning on ordering lunch on various dates, please order in the
same transaction rather than making multiple transactions. This will put the most amount of
money back in the pockets of the PAC to spend on our students! We only accept payment online
via MunchaLunch, no cash or cheque orders.
● When ordering Subway, you will be able to choose toppings at the END of your order just before
you pay. Please don't miss this important step or you will end up with a plain sub!
● For those who have children at two different schools that use MunchaLunch:
If you already have an account with MunchaLunch at another school, you will need
a separate account for YCMS. Simply send an email to MunchaLunch at
support@munchalunch.com with the subject line "Request login name".
Let them know the names of your child and the school your children go to and they
will set up two separate accounts for you.
● If your child is home sick on a lunch date , please send a note to the contact email address below,
we'll set it aside and you're welcome to come pickup their lunch at 11:20am in the lobby;
otherwise consider it a donation as there are no refunds.
How to Register: Please go to www.munchalunch.com/schools/yorksoncreek to login and order!!!
Please contact us at yorksonmunchalunch@gmail.com if you have an questions or need help ordering
Do you know if you order the lunches all at once, that will minimize the credit card processing fees = more money for the school to spend!
Please contact us at yorksonmunchalunch@gmail.com if you have any questions. Here you can find a list of Frequently Asked Questions.